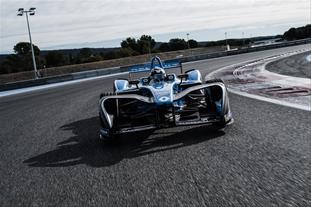 Three-time FIA Formula E Teams' champions Renault e.dams kicks off its title defence this weekend
Sébastien Buemi and Nicolas Prost head into the first race of Season Four of the FIA Formula E championship at one of the most exciting circuits on the calendar, Hong Kong
Equipped with the new Renault Z.E.17, drivers Sébastien Buemi and Nicolas Prost face possibly their sternest test yet in their defence for the colours of the French squad.
The season debuts as per last season at one of the most exciting and spectacular tracks on the calendar. Cars will be racing on a 1,860km track located in Hong Kong's Central Harbour front area, where the 10-turn narrow circuit with two tight hairpins should provide great overtaking opportunities.
Pre-season testing in Valencia proved to be particularly closely matched, on both pace and energy management, so the challenge to make it four-in-a-row Teams' titles will be an exceptionally tall order.
Winner of last season's inaugural Hong Kong ePrix, Sébastien Buemi is aiming to remain unbeaten on this track, whilst Nicolas Prost is aiming to go at least one better than his fourth last year, with a podium finish.
The Asia-Pacific region is a growing market for electric vehicles and Renault's EV range is put to good use in Hong Kong with more than 150 Fluence EV used by government officials and Kangoo EVs used by firefighters and other services.
Elsewhere in the region, Renault Samsung Motors is a pioneer and an innovative leader in the Korean EV market, where the SM3 Z.E is produced at the Busan plant while in Singapore Renault has provided its top-selling electric vehicle, ZOE for an autonomous driving taxi experiment.
The drivers
Sébastien Buemi
"I am more motivated than ever for the season to begin. We know the opposition will be tougher than ever, so consistency will be the key to success. Every point from fastest laps or pole positions will count, so I expect a hard fight where I need to score regularly. I'm looking forward to returning to Hong Kong where I hope we can make a great start to our championship defence."
Nicolas Prost
"We have been working very hard with the goal of remaining at the front of the action as we have seen just how much progress has been made by our opposition. Last season did not go as I hoped, so I am keen to be in the mix right from the very start of Season Four. We've worked very hard in the off-season to get the Z.E.17 better suited to my driving style, so I am confident we can begin on a bright note in Hong Kong."
Stats
2 It's the second edition of the Hong Kong ePrix
1,860km Track length
10 Number of turns
102m Start/Finish line offset
43 Number of laps for Race 1 (Saturday ePrix)
45 Number of laps for Race 2 (Sunday ePrix)
Do you remember Season 3?
1 Sébastien Buemi won the first Hong Kong ePrix
4 Nicolas Prost finished fourth
45 Number of laps
1:02.947 Felix Rosenqvist took the fastest lap on lap 36
To download the full preview, click here