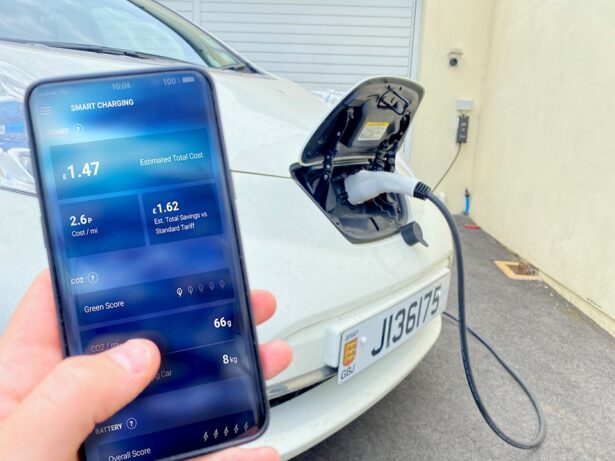 Free smart charger and £500 cashback thank you for participants:
https://www.jec.co.uk/energy-hub/tag/electric-transport/
As part of our Vision to 'inspire a zero-carbon future', Jersey Electricity will collaborate with electric vehicle owners to trial the latest technology of home EV chargers. The trial aims to prepare the Island and its electricity network for a more sustainable future in which electric transport will play an increasing role, and customers benefit from lower carbon lifestyles and new technology.
We have already created an extensive network of public EV chargers across the Island and we're now looking to recruit 30 EV owners to take part in an innovative trial of two different types of smart home charger. Successful applicants will be able to keep the charger for free after the trial. They will also receive £500 cashback towards the costs of each installation, as a 'thank you' for participating.
Pure EVs and plug-in hybrids qualify of the trial
The driving force behind the project, JE Energy Solutions Officer James Le Ruez, himself a long-time owner of an electric Nissan Leaf, says: 'Participants must own a pure EV or a plug-in hybrid. For the trial, we're actively looking for drivers who use that EV as their primary mode of transport. They must also intend to charge at home for the duration of the trial, which we expect to last a maximum of 12 months.
'The chargers we are trialling can help us better manage the network, as well as help those customers on dual-rate tariffs access cheaper electricity. One system we will trial uses an app that allows drivers to select the amount of charge they need and the time they need it by – for example, 90% charge by 7am. In the background, we will set our preference for the charge time, say after midnight, when we have spare capacity on the network. The smart element of the charger will ensure customers get the charge they need, while also prioritising times when demand on the network is low. This maximises network efficiency and means customers can save money. A real win-win for all.'
Tell us how you're getting on in five short surveys
'Participants will agree for their consumption data to be recorded and used by JE so that we can understand how successful the trial has been. They will also complete five short online surveys to inform us how they are getting on. It is essential to hear from our customers how this innovative new tech works for them.
'This trial is another crucial step in helping Jersey to plan for a future which will increasingly use electric transport to tackle the climate emergency, supporting the Island's transition to net zero carbon by 2030.'
Application forms are available online at https://bit.ly/3ixzNpo along with a full list of the Terms and Conditions of the trial. Closing date for applications is 5 September 2020.