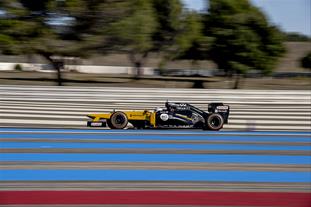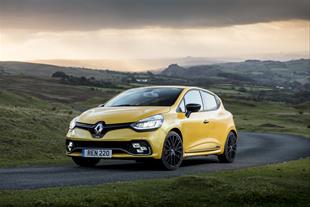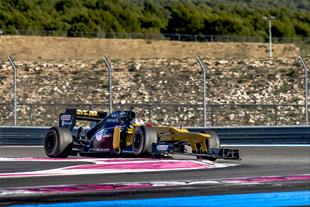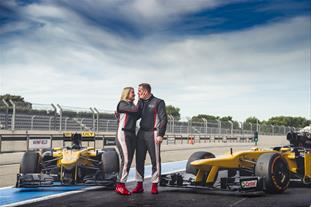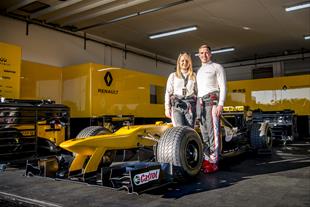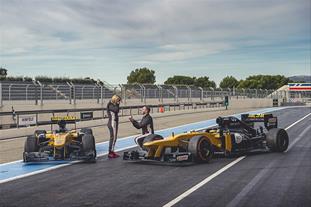 Lucky couple won a competition in order to win a drive in a Renault Sport Formula One Team car at Paul Ricard, France and got engaged at the track
Matthew Creed won the opportunity by test driving a Clio Renault Sport over the summer as part of Renault's Ultimate Test Drive event
Ten competition winners from across the UK attended the special event
Video of the event now available to view at: https://www.youtube.com/user/RenaultUKOfficial 
Renault celebrates 40 years in Formula One this year
A couple from Maidstone will no doubt be zooming down the aisle to say 'I vroom' after a Renault competition winner chose to pop the question to his girlfriend ahead of them both jumping into a modern F1 racer at the Paul Ricard circuit in the south of France.
Matthew Creed, 27, a Workshop Controller, test drove a Clio Renault Sport at Maidstone Renault in August and was automatically enrolled into Renault's Ultimate Test Drive competition to win a drive a Renault Sport Formula One Team car during a Renault Sport Racing Driving Experience day. After being notified of his once-in-a-lifetime competition win, and that he could take a partner, he asked his girlfriend Hayley Melen, 24, a Bank Manager, to join him on the trip. Both passionate car enthusiasts, Matt then set about creating the perfect proposal at the circuit that will host next year's French Grand Prix.
The event gave both Matthew and Hayley the opportunity to learn the circuit with professional drivers before working up towards experiencing 800bhp driving the Renault Sport Formula One Team car with two eight-lap sessions in a Formula Renault 2.0 single-seat racer and then an experience alongside a professional racing driver in the two-seater Renault Sport Formula One Team car.
Matthew decided to pop the question during a very special moment just before they took to the track for their final three laps of the day in the Renault Sport Formula One Team car.
Talking of the experience, Matthew said: "Seeing the F1 car was amazing, even sitting in the F1 car was incredible but actually driving it was indescribable. The last lap driving the F1 car was mixed emotions knowing that I will never have an opportunity to do this again brought tears to my eyes. It was something I had dreamed of since I was a small child while watching F1, but never in a million years did I think it would ever become a reality. The whole day was just perfect from start to finish. Hayley and I have always shared a passion for racing and Renault, and enjoy regular track days together in my Clio R.S. 200. I knew how proud she was to be there with me that day and to be living out my dream with me, I was also so proud that she did the experience too, I was very impressed! She has always been so supportive of my dreams and I knew it was the perfect moment for her to make me the luckiest man in the world, and she agreed to become my wife. It is a moment we will treasure for the rest of our lives."
Of the big surprise Hayley said: "Without a doubt it was the best day of my life. I didn't think that extraordinary things really happened to ordinary people. Winning the competition was spectacular, and the pure excitement in Matt's face that day is something I will never forget, experiencing his lifelong dream of driving an F1 car and doing it alongside him is something I will forever be thankful for, but I could never have anticipated Matt making my dreams come true too. It was a breath-taking moment, and incredibly emotional. We have both had a soft spot for Renault since we have been together, and alongside our passion for F1, it was just the perfect moment. Matt is truly my soulmate, and best friend and I cannot wait to become his wife"
Renault has a long history in motorsport, winning the first ever Grand Prix back in 1906. The historic French brand entered Formula One as a manufacturer 40 years ago with the RS01, known affectionately as the 'Yellow Teapot' – the sport's first ever turbo engine powered F1 car. Since then, Renault has been at the forefront of the motorsport series, both as a manufacturer and an engine supplier with 12 Constructors' titles, 11 Drivers' titles and 168 Grand Prix wins overall. Renault returned to Formula One as a manufacturer team in 2016.
The Renault Sport Racing Driving Experiences are available in three different packages: Passion, Racer and Elite – the package Matt and Hayley experienced – and are available to book. Further information on the driving experiences can be found: https://www.renaultsport.com/
The Renault Sport vehicle range currently includes the Clio Renault Sport 200 and the Clio Renault Sport 220 Trophy. The Clio R.S. 220 Trophy has 220hp and a 0-62 time of 6.2 seconds. The dual clutch EDC gearbox has paddle shifts – technology borrowed from Renault's Formula One experts. The Clio Renault Sport range is priced from £20,295.
The hotly-anticipated New Mégane Renault Sport was unveiled at Frankfurt Motor Show in September 2017 and is due to go on sale in the UK next spring with 280hp and 390Nm of torque. The New Mégane Renault Sport receives a choice of two chassis set ups, innovations such as 4Control four-wheel-steering and PerfoHub independent double-axis front strut suspension.
For more information on the Renault Sport range please visit www.renault.co.uk