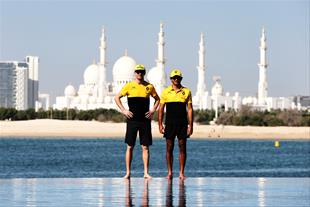 Foreword from Renault Sport Racing Managing Director, Cyril Abiteboul
We go to Abu Dhabi aiming to finish this rollercoaster season on a high.
This race is almost a championship in itself as we are in a tight battle with Toro Rosso and Haas, and everything is still to play for. Either one of us could finish between sixth and eighth position so we are being very careful with our preparations. We will have to combine an approach that is at the same time attacking, as we need five points more than Toro Rosso to get sixth, but also conservative as we are just two points ahead of Haas.
We can be positive about our prospects. Abu Dhabi will be the fourth race Nico and Carlos have worked together and we have had two double Q3 performances. They work well together and push each other in the right direction, allowing us to point our development accurately and accelerate elements that add performance to the car. Whatever the result this weekend, we already have the confidence of a strong driver line-up next season.
Despite the importance of the weekend, we will have a lot of VIPs from Renault and our partners at this fantastic track.
Snatch and grab
With sixth place in the Constructors' Championship now the target, Chief Technical Officer Bob Bell discusses the team's approach to the season finale at Yas Marina.
How do you reflect on Brazil?
It was a big disappointment as we wanted both cars in the points, higher up than the tenth and eleventh we achieved. This result was frustrating as both cars qualified in the top ten. One car crossed the finish line in the points, showing that the potential is there. Carlos had a first lap incident where he sustained a decent chunk of aerodynamic damage to his floor. This cost him performance in the race, where he had a trickier run than Nico to keep pace. We had a particular emphasis on reliability in Brazil as we wanted to be sure both cars finished, and this did have an impact on performance.
What is the approach for the final round?
We will look at the balance of risk and reward with the aim of maximising our chances of overhauling Toro Rosso for sixth in the Championship. We'll fight for every point.
What's the verdict from testing 2018 parts in Brazil?
Nico's Power Unit had elements relevant to 2018 and we also assessed chassis concepts. From an evaluation point of view, we completed all the tests we wanted on Friday with some positive answers and feedback. We've made strong progress in this area.
What have been the key areas of progress for the team over the season to date?
The performance of the car and our ability to extract it has improved a lot over the season. What we've failed to do is take that performance and convert it into points on a Sunday afternoon. There is no doubt how quick the car is and there has been a clear upward trend throughout the season on our improvements. Our understanding of what we need to do to make the car better has developed a lot and that will continue into next year.
What's the progression been like at Enstone?
We have recruited more people who have the necessary understanding as well as an increase in the number of younger personnel, who are learning the trade. There is momentum building in all areas and that has led to the progressive improvement in performance. We want to carry that on into winter and through into next year.
I get a great sense that the momentum in this team is building for the longer term and that's what we're interested in. Clinching sixth in the Constructors' is important as this team wants to show progress en route to being successful and winning championships. It's important to feel and build on this momentum.
Are you happy with what you've seen from the Nico-Carlos pairing?
Both are highly adept at giving us a clear direction to follow for the fundamental development path with the R.S.17. They see the same problems from slightly different angles, which is insightful. Carlos has settled in very quickly and works with his engineers very well. He's been immediately on the pace. He's a great team player and works well with Nico, they are both very mature.It's key that they remain level-headed and keep progressing together. They are both clearly talented and very quick.
Final Countdown
A fired-up Nico Hülkenberg is ready to end his maiden season with the team on a bright note.
What is Yas Marina like to drive?
The circuit itself is quite amazing and the facilities are really impressive. It's a long lap with a weird rhythm so it's key to get comfortable with the change of flow. The corners are a lot different to each other so it's vital to find a good balance, get accustomed to the conditions and master it. Abu Dhabi is a really fun place for a season finale. I've finished in the top seven three times in the last three years so I'm looking forward to it and ready to fight for some points.
How do you reflect on Brazil?
It's certainly positive to pick up one point after such a frustrating run in recent months. In terms of pace, we weren't as strong as we would like to be but we did the best we could. The Constructors' Championship will go down to the wire for sixth in Abu Dhabi and I'm really relishing the challenge. The track should suit us better than Interlagos. It's the season finale, there's plenty at stake and that makes me very excited.
What's been the story of your season?
This year has been about progress and development. I've got to know a new team, and one that has been developing strongly over the course of the year. We've made progress with the car and our performance. Of course, we've wanted more in terms of results, but I think we have put many things in place behind the scenes, which will enable us to fight for better positions in the future, and that's always been the aim.
What's your aim for the final Grand Prix of the season?
I head to Abu Dhabi hoping to score well. I want to kick back on Sunday night at Yas Marina with the team and celebrate a job well done.
Yabba Dhabi Do
Carlos Sainz will conclude his short and promising relationship with the R.S.17 as he heads out for his fourth time in Renault colours at the season finale.
What do you think of the Abu Dhabi Grand Prix?
I enjoy that this race is at night, I've done well under the lights this year so it would be nice to repeat that form. The atmosphere is always good in Abu Dhabi as it's the last race of the year which makes it quite a special event. The facilities are incredible there and it's pretty cool to start the race in sunlight and finish at night time, I like that!
What are your thoughts after Brazil?
I left Brazil with a positive mindset as I'm starting to feel at home in the car and we head to Abu Dhabi with confidence and an aim for points. It's going to be a tight fight in the championship for sixth, but we are ready for the challenge.
How do you look back on your first three races with the team?
There's been a lot to learn but I think we've been able to face the challenge in a positive manner. It's been an education for me to come to a manufacturer team, and there's been a lot to do because of joining mid-season. I'm still on a steep learning curve with the car so I hope for another step forward in Abu Dhabi.
What are your goals for the final race?
Of course, I want to qualify and finish in the top ten. We've definitely had strong positives from every Grand Prix so far and I want to continue that to finish the year with a smile on my face.
RSA Round-Up
Second title for Lundgaard in rookie season
Renault Sport Academy Driver Christian Lundgaard stormed to a second Drivers' title of the season as he claimed the Spanish F4 Championship in Estoril last weekend (10-12 November).
Christian – winner of the SMP F4 NEZ Championship earlier in the season – sealed the crown in style by taking victory in the final two races in the season finale at Estoril.
The Dane, in his rookie year in single-seat machinery, entered the final round with a slender three-point advantage over Alexander Smolyar who had mounted an impressive comeback during the second half of the season.
But Christian remained cool and took the title by 36 points following the two wins and a second in the opening race.
Marta García ended her first full season in Spanish F4 in ninth place in the championship. The Spanish teen capped off the campaign with eighth place in the final race in Portugal to finish on 67 points.
Christian Lundgaard: "The weekend in general was really good. It was nice to go into the final round with competition and pressure to win the championship, which was a real challenge. Our pace was there from the off, which really helped. Taking the Race 2 win was great and set me up for the Sunday. I knew what I had to do in Race 3 – just finish it – but I took the advantage, gave it a go and won the championship in style with a victory.
"I would like to say thanks to MP Motorsport for the amazing job all season. We had to battle for it, but we showed we were the best. Thanks to Renault Sport Academy as well for all the support which has been incredible."
Marta García: "The final round was a difficult one for me as I didn't quite have the pace of top five. I would have liked to finish the final round a little better, but things happened like this. I've had ups and downs during the season but learned a lot from it. I would like to thank my team MP Motorsport, Renault Sport Academy, and all the people who have supported me."
Rowland and Latifi ready to finish on an Abu Dhabi high
Renault Sport Formula One Team Development Driver Oliver Rowland is aiming to clinch the runners-up spot in the Formula 2 Championship as the season draws to a close in Abu Dhabi on the Grand Prix weekend.
Oliver, driving for DAMS, has had an impressive season for the French team taking ten podiums across the season including a second and a third at the last round in Jerez. Those results mean he leads Artem Markelov by 12 points going into the final two races in the desert and the chase to be best of the rest behind series winner Charles Leclerc.
Test Driver Nicholas Latifi mathematically remains in contention to finish second in the championship but is 33 points adrift of team-mate Oliver in the standings. Nicholas has enjoyed an excellent season in Formula 2 with eight podiums to his name which included a win at Silverstone in July.
Oliver Rowland: "I'm really looking forward to the final round of the season in Abu Dhabi and I'm aiming to take second spot in the series. I had a good outing last time in Jerez with two podiums so it's important to end the year on a high with two more. We're still in the mix for the Teams' title so Nicholas and I will be pushing hard to secure that."
Nicholas Latifi: "It's been quite a long break between our last race and the upcoming one in Abu Dhabi so I can't wait to get back in the car. Mathematically I can still finish second in the championship so I'll be pushing as hard as I can to have the best weekend possible and hopefully with a bit of luck things will fall into place for me. We are also still in the fight for the Teams' Championship so I'm really hoping we can come out on top in that to reward the guys for all of their hard work and commitment during the season."
Academy Focus…Jack Aitken
Renault Sport Academy Driver Jack Aitken goes into the GP3 season finale in Abu Dhabi looking to solidify his second place in the championship. It's been a mixed second season for the 22-year-old British-Korean who has taken six podiums, including a victory in Hungary, in 2017.
In September, Jack tested a 2012 spec Renault V8 powered E20 Formula 1 car in Jerez as he continues his hard work to move up the motorsport ladder. The ART man discusses life as a racing driver, his future plans and what driving Formula 1 machinery feels like.
How did you get into motorsport?
I started when I was 7 years old, but I'd been watching Formula 1 a long time before that because my dad was into it. My mum is a bit of a petrol head as well so the whole family loves it. I began karting because I passed some exams and it was a present. I got into it and carried on.
What's the dream in motorsport?
Winning many, many times in F1, I think! The overall goal is to win a world title.
Who are your motorsport heroes?
I have a lot of respect for people like Senna, Schumacher, Prost, Hamilton, but I don't really think anyone is a hero or I don't have any idols in that sense. People are normal, they all have their faults as well.
How would you describe 2017?
Difficult, in fairness. We have been fighting for the GP3 title but we've not won it which is unfortunate. We've still had a strong year and I need to take the positives from that and take those into next season.
What is your most memorable overtake?
It was quite a long time ago, in 2013, and it was a double overtake, two for one. I was racing in Formula Renault NEC at a soaking wet Zandvoort. After the fast right handers out the back there are two hairpins one after the other. Two cars in front of me, fighting each other. They came out of the first hairpin and there was a gap between the two so I overtook one, crossed over between the two where there was one car's width, one car length, and then was on the inside and overtook the second car on the second hairpin. That secured me second in the championship at the time!
What is your standout moment of the season?
Taking pole at the very first race in Barcelona. Traditionally, in some of my past seasons, I've taken a little bit of time to get up to speed and I really worked hard to be ready for the first race. I turned up and took pole by a couple of tenths against some really tough guys and it was nice to start the season like that.
What were your impressions from the E20 Formula 1 test?
It was just awesome. In some ways it's just like stepping up to any other car in the sense that it's bigger and better and you just have to get used to it, but in other ways it's clearly much more refined than anything I've ever driven. There's a lot more detail with things like how the car rides and how it behaves. You're not fighting it so much, it's clearly giving you confidence and it's just generally a very well-engineered machine. It was very impressive!
Track Notes:
Yas Marina has been hosting Grand Prix racing since 2009 and has featured the climax to five Formula 1 seasons. Drivers negotiate 21 corners in the desert with the race starting in daylight and finishing under the night sky. An underground pit lane as well as an on-track hotel are amongst the unique features it has to boast. Sector one is high-speed with sector two featuring two long straights with DRS overtaking opportunities. The final sector is technical with a number of right-angled turns.
T1: The first corner is medium speed – taken at around 150kph. Leading to the high-speed turns of two and three, both of which should be flat out in qualifying and only giving drivers something to think about when they have heavy fuel loads.
T2: A defining corner for set-up. This corner has the greatest need for front wing to eradicate understeer, which sets the wing level for the track.
T5-6: One of the bigger braking demands on the track, with drivers going from 300kph to 90kph for the left-right chicane.
T7: A second gear corner taken at around 70kph, strong engine pick-up is vital out of turn seven for a good entry onto the circuit's longest straight, with the first of two DRS zones.
T8: With maximum speeds of around 330kph there is heavy braking down to second gear and around 80kph is required for turns 8-9. The kerbs are used aggressively through this combination so suspension compliance is beneficial and a good exit is critical.
Sector 3: After the long straights of the middle part of the lap, Sector 3 has a series of closely-spaced low and medium speed corners that stress the tyres, making the end of the lap tricky for the driver to manage.
T11: Another long straight sees the second DRS zone, with speeds well in excess of 300kph leading to another heavy braking zone for turn 11. The turn 11-13 sequence requires good change of direction from the car.
T15/16/17: A tricky, high-speed entry to Turn 17 where the drivers have to combine braking and cornering.
T18: A simple left-hander which goes under the chameleon-esque hotel feeding into another left-hander that is likely to see cars dancing with the wall.
T20: A medium/high speed corner leading to the last corner, from which it is a short burst to the finish line.
Power Unit Notes:
Yas Marina is a mid-range power track, but it is particularly hard on the ICE due to the long 1.2km back straight where the power unit will be at full throttle for 14secs.
Over 50% of the lap is spent at full throttle, with average speeds of 190kph, similar to the Circuit de Gilles-Villeneuve. Top speed will peak at over 330kph down the back straight between Turns 7 and 8. This may seem slow in comparison to the highs of Mexico and Brazil, but it's just as impressive as the cars will be running medium to high downforce settings and the sea-level air is much denser than at high altitude.
Fuel consumption per km is the fifth highest of the season behind Melbourne, Montréal, Spielberg and Sochi. The first two sectors are relatively fuel efficient but the stops and starts of the final sector dramatically increase the consumption. It is increased further by the sea level altitude and running in the lower temperatures after sunset.
Tyres:
Soft – Sky Tower – By no means the tallest in the Abu Dhabi skyline, but is certainly one of the most eye-catching.
Supersoft – The Landmark – The second tallest in Abu Dhabi at 324m, this giant has a sense of hidden beauty.
Ultrasoft – Burj Mohammed Bin Rashid – Standing at 381m, this masterpiece is above all in the skyline pecking order.
In Numbers:
87 – The Emirate of Abu Dhabi makes up 87% of the United Arab Emirates' total area.
74 – The Observation Deck is a restaurant located on the 74th floor of Tower 2 of the Emirates Towers.
499 – Number of rooms in the Yas Viceroy Abu Dhabi Hotel which bridges the circuit just after Turn 18.
385,000 – Number of camels in Abu Dhabi.
Our Season in Stats:
Laps Raced
KM Raced
Best Result
Most Laps per position
Top Racing Position
Top 10 Finishes
Q3 in Qualifying
Nico Hülkenberg
918
4,716
6th (Spain, Great Britain, Belgium)

133 in 12th

125 in 8th

123 in 6th

2nd, 1 lap in Singapore
7
11
Jolyon Palmer
721
3,563
6th (Singapore)

146 in 14th

107 in 12th

3rd, 1 lap in Singapore
1
2
Carlos Sainz
185
864
7th (USA)

43 in 11th

27 in 17th

24 in 7th

5th, 1 lap in Mexico
1

3
R.S.17
1,824
9,143
6th
9
16