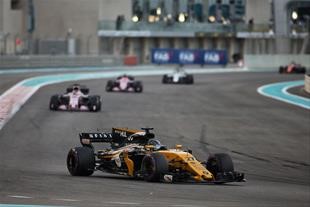 Renault Sport Formula One Team clinched sixth position in the FIA Formula One World Championship in today's Abu Dhabi Grand Prix with an outstanding sixth place finish for Nico Hülkenberg. The team went into the weekend needing five points to move into sixth, but thanks to a mature team performance and measured drive from Nico, notched up eight points to achieve its aim.
Nico had lined up for the race in seventh. A strong start kept him in position, but the Stewards judged he had gained track position from a first lap excursion and awarded him a five second penalty, which he served in his sole pit stop on lap 17. Knowing he had to pull out an advantage over eighth placed Sergio Perez, Nico put in a series of quick laps to create a gap of over seven seconds by his stop. He gained one position as Daniel Ricciardo retired ahead, and then controlled his pace to cross the line sixth.
Carlos Sainz had started from twelfth on the grid and was locked in a close on-track battle with Felipe Massa and Fernando Alonso to get into the top ten. When Massa stopped on lap 22 Carlos took full advantage and looked set to gain track position after he finally came in for his stop on lap 31, but a wheel came loose when he exited the pit lane, forcing him into an early retirement.
Renault Sport Formula One Team finishes the year sixth in the Constructors' Championship, with Carlos Sainz ninth and Nico Hülkenberg tenth in the Drivers' Championship.
Nico Hülkenberg, #27, R.S.17-04: Started P7, finished P6.
"It was a bit of a thriller! It was a very interesting first lap, then very interesting again after the stop when I had to get past the Haas, which was super-fast on the straights and obviously I had Checo right behind me waiting to take advantage. We managed to come out on top and it's a very decent end to the season. Sixth position in the championship is good for us and will be a morale booster for the team over the winter. We had a good package over the second half of the season, but we have had some issues so it is great to finish on a positive result and go into the winter with our chins up."
Carlos Sainz, #55, R.S.17-01: Started P12, DNF.
"We were having a good race and I had made some real progress and was looking forward to the second part of the race and racing to get in the top ten. The pace was good and it's such a shame we had that issue with the wheel and I had to stop, but these things happen. I think we deserved to have both cars in the points, but let's stay with the positives. Nico got the job done for the team and we got the points we needed to finish sixth. Overall it's been a good season and a really great start for me with Renault."
Cyril Abiteboul, Managing Director
"Mission accomplished. We came here with one clear objective. At the start of the year we set out to finish fifth, which was very ambitious, but ambition is good – you have to set high targets. This season we've not made it easy for ourselves and the last three weekends have been a microcosm of this rollercoaster of a year. At times we've been too aggressive, then too conservative, but we came to Abu Dhabi with a very extreme preparation and the weekend went almost exactly to plan. Sixth was the revised goal and I'm so proud we got it. It's a milestone for the team and an achievement that goes beyond the on-track result. It's a motivation for everyone – for every team member and a fantastic reward that will count far more through the winter than any financial considerations."