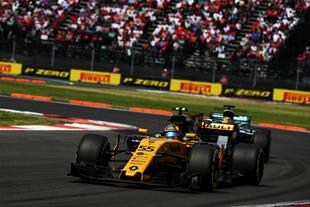 After a good start to the Mexican Grand Prix, fortunes quickly turned for both Renault Sport Formula One Team drivers. After gaining one position at the start of the race and running as high as P4, an ERS problem forced Nico Hülkenberg into retirement for safety reasons. Carlos Sainz had an equally good start, moving up one position to P7. He pitted on lap two after a high-speed spin and later retired from seventeenth with a mechanical issue.
Nico started the race from P7 on Ultrasoft (purple) Pirelli tyres, switching to a new set of Soft (yellow) tyres on lap 19 and retired on lap 24.
Carlos started the race from P8 on a set of Ultrasoft tyres pitting on lap 2 for a new set of Softs (yellow) and again on lap 31 for Ultrasofts. He retired on lap 55.
Nico Hülkenberg, #27, R.S.17-04: Started P7, DNF.
"It was a very frustrating race today, I'm disappointed. We were doing well and a very good result slipped through our fingers. We have some work to do on reliability because we lost some potential points today. It's a shame but this is racing."
Carlos Sainz, #55, R.S.17-03: Started P8, DNF.
"It was a difficult day for the team. We had a very good start, but in the first two laps I wasn't very comfortable and had a strange feeling with the car. I had a high-speed spin and flat-spotted my tyres and had to box early. From then on, although our pace was ok, I was at the back and couldn't do much to re-join the cars in the points. In the end, my retirement was due to a mechanical issue with the steering."
Cyril Abiteboul, Managing Director
"The Mexican Grand prix was a difficult one for us with multiple incidents throughout the weekend. Both Nico's retirement and one of our partner teams' car is a reminder that reliability remains an issue and the consequences weigh heavily on us and our customer teams. Being in high altitude, we recognise the inevitable challenges this circuit brings. It's about finding performance without compromising reliability. This weekend, we had performance, qualifying was very good for many of the different Renault-powered cars. However, the balance between performance and reliability was not good. Max Verstappen's win confirms the engine's potential and I want to congratulate him and his team for this great race. I'd also like to congratulate Lewis Hamilton who entered our sport's history today. As a team, we need to stay motivated for the last two races and focus on our objectives."