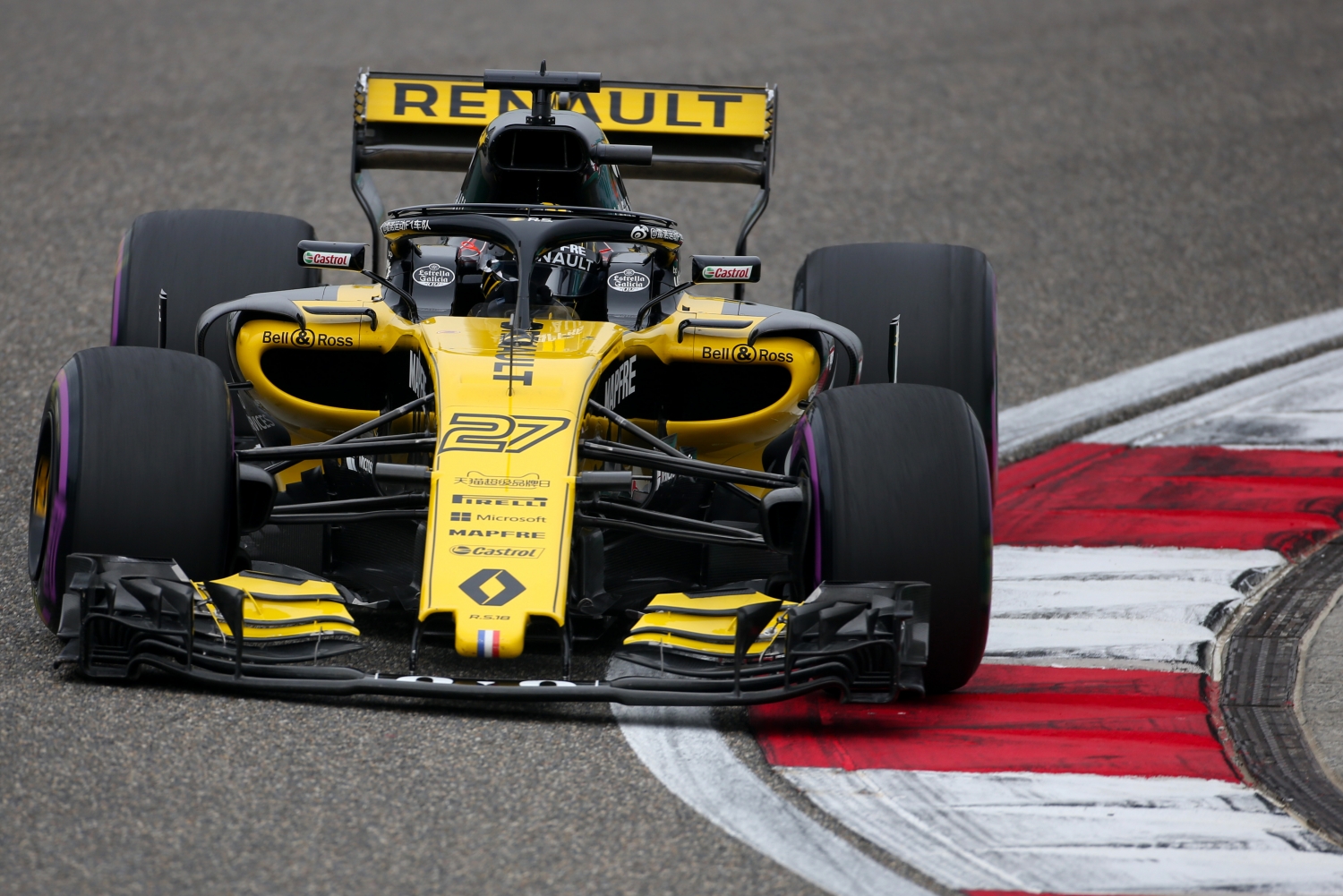 Foreword from Renault Sport Racing Managing Director, Cyril Abiteboul
Azerbaijan delivered our best result to date since returning to the sport in 2016. We appreciate it took special circumstances, but it does not take anything away from the fact we are now in a position to capitalise on any opportunities. Our progress is clearly illustrated in the data in a number of ways; for example our gap to pole has halved from last year.
The start of the European season now needs to see a consolidation of that performance. We will be helped in Spain by a step on the engine side with new fuel and some aero tweaks to reflect the characteristics of the track. We hope this to be a move forward, but we also recognise that many other teams will bring upgrade packages too and Barcelona is well known to everyone.
We need to push for points and that fourth position in the Constructors' Championship, which is well within our grasp now but I expect it to be a lot tighter from now on in. Our target remains reliability and scoring points at every race if we are to achieve this.
With this in mind we can look forward to Spain with enthusiasm and lots of hope.
Making it happen
A fifth-place last time out gifted the team its best result in Formula 1 since returning to the sport in 2016. Now it's back to familiar surroundings in Spain for the first European race of the season, as Chief Technical Officer Bob Bell explains the ins and outs of the Circuit de Barcelona-Catalunya.
What are the main challenges of the Circuit de Barcelona-Catalunya?
It's a great testing track with a mix of high-speed and low-speed corners. You get a good view of all the conditions the car operates in, which is beneficial for development. To get the best from the circuit, you need a car that is good in the high-speed and also good in the low-speed. It's a nice, average track, which tests all things; the aero balance, engine performance and braking performance. Nothing really stands out as something you have to nail, everything needs to be good to go well in Barcelona. We went well there in winter testing and there is no reason why we can't replicate that when it comes to the racing.
Given the extensive winter testing programme, are preparations easier for this race?
We know the track with the new cars better than any other track, but it doesn't make too much difference in terms of preparation. The climatic conditions are different, going from a cold winter track to an early summer environment. Track temperature will be different and that often catches us out. In the winter there didn't seem too much of a step between Pirelli's Soft to Ultrasoft tyres. We might find with proper track temperatures that will change and this will be the first time we run on the new track surface at this time of year. The circuit isn't particularly hard on tyres, so it won't be like China where a lot of the teams had issues with strategy; it'll be clearer in Spain.
Spain often sees a raft of car developments unleashed, what will we let out of the upgrade cupboard?
Traditionally Barcelona has been where all the teams have brought upgrades; usually a major aerodynamic upgrade. This year, the first big aero upgrade package was in Baku. In Barcelona, we'll have less brand new elements. For the foreseeable races, we have upgrades coming at each race, some small, some bigger.
How would you summarise Renault's start to the 2018 Formula 1 season?
I feel very positive and it's all built off from what we did at the factory and in winter testing. We had a very successful and reliable test and that's been mirrored into the first four races with consistent points. The performance of the car has been pretty much where we thought it would be from winter testing. We have a very stable platform, which is a great place to be in order to develop and make the car better and better as the season progresses. Confidence is up, and we believe we can fight where we want to be. It's never easy, it's hard fought and we have to push hard all year to get the developments coming and keep us ahead of the rest of the midfield pack. We're in a good place with a solid foundation.
Spain and Gain
Nico Hülkenberg is ready to dust himself down after his misfortune in Baku as he sets his sights on a better run at the Circuit de Barcelona-Catalunya for the first European race of the season.
You must know the Circuit de Barcelona-Catalunya pretty well?
It's a circuit all teams know really well as we rack up a huge number of laps there each year with winter testing. Engineers, as well as drivers, have a lot of data and knowledge about it, so we'll be looking to maximise our pre-race preparations to hit the ground running on Friday. I like the layout, especially the first sector with turns 1-2-3, which are especially quick with the low downforce cars. It's a physical circuit to navigate with a couple of high-speed right handers. It's important to prepare the neck for this endurance challenge, and after the race you usually feel the aches and pains!
What are the secrets for a quick lap time?
The first few turns are almost like one big corner as turns 1-2-3 seem linked when at high-speed! You need to carry momentum through turns one and two, if you don't, you will compromise the very fast turn three and be in trouble running into turn four. Sector two contains another very fast right-hander and a straight. Sector three is the most tight and technical of the three. It's twisty and slow, especially through the last chicane, but we have to nail the apexes in order for a quick lap time.
Do you enjoy visiting Barcelona on the Grand Prix weekend?
Barcelona and the surrounding area is a cool place to visit. You get a sense of a proper Spanish vibe there as it's by the sea with lots of good restaurants and places to chill out. It's always one of the louder races of the year and there's always a really good turnout of fans. That's great to experience when we're on track and I love the Spanish passion. It does mean, though, I have to leave for the circuit a little earlier in the morning to avoid the traffic!
How do you reflect on Baku?
We all have bad days. What happened was unfortunate, but that's racing as the saying goes. It's time to reset and refocus and look forward to Spain, where I want to make amends.
Vamos Chilli!
Carlos Sainz is primed and ready to do the business at his home Grand Prix, as he heads to Spain on the back of some positive momentum after his hard-fought fifth place in Baku.
What, in particular, makes the Spanish Grand Prix so special?
It's the most special Grand Prix of the year for me and it feels so different to any other race. Wherever I go throughout the weekend, there's always people cheering, it's a real privilege to experience. It's a busier weekend than normal, but I enjoy that, and I realise I'm very fortunate!
Are you looking forward to seeing your fans in the Carlos Sainz grandstand?
It's awesome to have my own grandstand. We started back in 2016 and ever since, fans have been so grateful and supportive so it's totally worth it. We have nearly 4,000 fans this year, near turn five, and it's going to be very special to drive past them on every lap. I can't wait for it again this year and hopefully I can put on a show for them.
Talk us through a lap of the Circuit de Barcelona-Catalunya…
It's three quite different sectors, each with some fast and flowing corners. The tarmac is new this year all around the track and this makes it even more interesting. Turn three is extremely quick in this year's cars, and we hold it flat out, while clinging on in sixth gear. Turn five is where my fans are and we then accelerate down the hill into my favourite part of the track. It's a quick, uphill turn seven followed by another flat-out right-hander. Then it's DRS down the straight and into the last part of the track. We need good traction throughout this sector as it's very tight with no room for mistake. It's about hogging the inside kerbs as much as possible to find the shortest route. Finally, we have to negotiate the chicane, where we want to maximise the kerbs, before accelerating flat-out from the corner to finish the lap.
Why do you think you go well in Spain?
It's a track I know very well since I was young. Also we get to do the tests here, both in winter and after the race, so every Formula 1 driver is very familiar with the track layout. I've raced in three Spanish Grands Prix so far. Each of them have been very special and I've managed to get some good results here. I think that shows all the support I receive works and it's like having an extra boost. With all the fans giving support, we become very strong! I hope I'm able to keep it this way this season and continue the good trend of results at my home race.
What can you recommend to do and see in Barcelona?
Of course, I have to recommend to try as many traditional Spanish dishes as possible. The food is so good here! I seem to mention food in a lot of my race previews! More specifically, Barcelona is a very charismatic city. There are so many things to do. Visiting La Sagrada Familia or the Casa Battló of Gaudí, shopping around La Rambla or just enjoying a drink by the seaside are some of the many things you can do here. It's a fantastic city and I love it.
What's the post-Baku feeling?
It is a really strong result for the team and myself, which we had to battle for. Now it's time to look forward and put all of our efforts into backing it up with another positive result in Spain. I'm working really hard with the team to extract the maximum of the Renault R.S.18 and I'm confident we'll get there step by step.
Renault Sport Racing
Maiden Formula 2 podium against the odds for Aitken
Renault Sport Formula One Team's Third & Reserve Driver Jack Aitken sealed his first FIA Formula 2 podium with second place after a dramatic Feature race in Baku.
Jack had qualified seventh for the race but stalled on the grid as the lights went out, dropping him to the back of the pack and he was forced to restart his ART Grand Prix car from the pit lane. A lap one safety car allowed Jack to re-join the field in 18th place and worked his way up to twelfth by the midway point of the 29-lap race.
A second safety car intervention on lap 20 saw Jack move from ninth to fourth at the restart before a smart move on Sergio Sette Camara put him into the podium positions with six laps to go. The 22-year-old then claimed second place on the penultimate lap, holding his cool to the line for his first Formula 2 podium.
In the Sprint race, Jack again stalled on the line, recovering to an 11th place finish while also claiming the fastest lap of the race.
Artem Markelov failed to pack a punch in Baku, leaving the weekend empty handed. The Russian suffered an engine-blowout in the Feature before another technical problem in the Sprint forced him to retire.
Jack Aitken:"Overall I'm pretty happy with the Baku weekend. Coming all the way from last to second after stalling in race one has to be one of the best races I've ever done! And to be fastest man out there in race two on a track I'd first seen this weekend, gives me a lot of confidence in our set-up. Of course, two stalls this weekend has left us pretty dissatisfied, and we have to work as a team to have a better procedure. But I'm looking forward to Barcelona and we have the pace to win!"
Artem Markelov:"Baku is done, with not the best outcome. From the start of the weekend we had problems, both with the driving and the car. We only managed two laps in practice and for qualifying we didn't have enough laps to be entirely confident. We started race one from fifteenth, and towards the end of the race we were fifth, before the engine blew and that was us out. The start wasn't great in race two as there wasn't enough power in the engine, and I retired on lap two. We're now looking forward to Barcelona and we want to fight for points again."
Fenestraz gears up for Formula 3 season opener
Renault Sport Academy Driver Sacha Fenestraz begins his 2018 campaign next weekend, as the European Formula 3 season gets underway on the streets of Pau, France.
Sacha has enjoyed a number of tests throughout the winter months in preparation for his rookie year in the class with Carlin, ending the final test at Misano in sixth.
Sacha has experience of racing in Pau, after he finished second there in the Formula Renault Eurocup in 2017, on his way to taking the Drivers' title. Fellow Academy drivers Christian Lundgaard, Victor Martins and Arthur Rougier will also appear in Pau with wildcard entries for the weekend.
Sacha Fenestraz:"It will be really interesting to see how we compare to our competitors. No one was at 100% in the tests, not even us, so it'll be interesting to see where we rank. We'll work really hard to be up there at the front. Pau is quite a hard track to begin the season with, as it's a street circuit. The goal for the weekend is to learn as much as possible, not touch the walls and do my best."
Fifth for Buemi in Paris ePrix
Renault e.dams Driver Sébastien Buemi finished in fifth place in the team's final Formula E outing on the streets of Paris.
Séb made a bright start, leaping up to sixth on the first lap after starting eighth on the grid. The Swiss was then battling to hold that position with Daniel Abt, the pair swapping places, before Séb got back past on the final lap, inheriting fifth place after Andre Lotterer damaged his rear wing on the final corner.
Nico Prost suffered damage to the rear wing of his car on lap one and finished outside the points in 13th.
Renault e.dams are next out in action in Berlin on May 19.
Sébastien Buemi:"While it's not satisfactory, I can take away some positives from the race. I got off to a great start and my pace was good on the first stint. It was trickier in the second stint, but we managed to repass Abt and take fifth."
Nico Prost:"I made a pretty good start and I was battling with Heidfeld and Abt in the first corners. It was all going well until Blomqvist hit me. It's rather disappointing, but there was nothing I could do about it. You just have to keep your chin up and hope for better results in the future."
Renault Sport Team Vitality crowned Rocket League European Champions
Renault Sport Team Vitality, the team's official eSports gaming partner, stormed to the Rocket League European Championship title last weekend in the Elite Gfinity Series.
Philip Paschmeyer, Victor Locquet and Sandro Holzworth who make up the team, defeated Team Envy 4-1 in the Final at London's Gfinity Arena, to take the first piece of silverware since the Renault Sport Team Vitality collaboration in February.
Ciaron's Corner:
This circuit has been resurfaced since the 2017 race, and the new surface is much smoother than the old one, which has changed the character of the circuit compared to last year, both in terms of driving lines and tyre behaviour. The first two sectors have mainly medium and high-speed corners. The last sector from Turn 10 onwards consists of closely-spaced low-speed corners, which is very demanding on the rear tyres and it is easy to overheat them and lose performance through the last chicane and on to the straight. Tyre wear is typically high on the left-hand side tyres, and this often is the limitation on stint length in the race.
Tyres:
Medium (white) – Hülkenberg 3, Sainz 3
Soft (yellow) – Hülkenberg 2, Sainz 2
Supersoft (red) – Hülkenberg 8, Sainz 8
Nico
Starts: 7
Points: 10
Average Points: 1.42 (F1 career average: 3.07)
KM: 4,613
Laps: 991
KM Raced: 1,904
Laps Raced: 409
Positions Gained (2017) (+/-): +7
Fastest Lap: 1:26.586 (2013)
Fastest Qualifying: 1:21.397 (2017)
Average Qualifying: 13th
Average Finish: 13th
Carlos
Starts: 3
Points: 16
Average Points: 5.33 (F1 career average: 2.04)
KM: 2,165
Laps: 465
Raced KM: 912
Raced Laps: 196
Positions Gained (2017) (+/-): +5
Fastest Lap: 1:26.186 (2017)
Fastest Qualifying: 1:21.371 (2017)
Average Qualifying: 8th
Average Finish: 7th
Renault in Spain
Starts: 127
Wins: 12
Podiums: 27
Pole Positions: 10
Fastest Laps: 7
Points: 474
This time last year
Qualifying:
Palmer – P17
Hülkenberg – P13
Race:
Palmer- P15
Hülkenberg – P6
Unusual fact: During the 1992 Olympic Games in Barcelona, the circuit was the starting and finishing point for the 100 kilometre time trial cycling event.