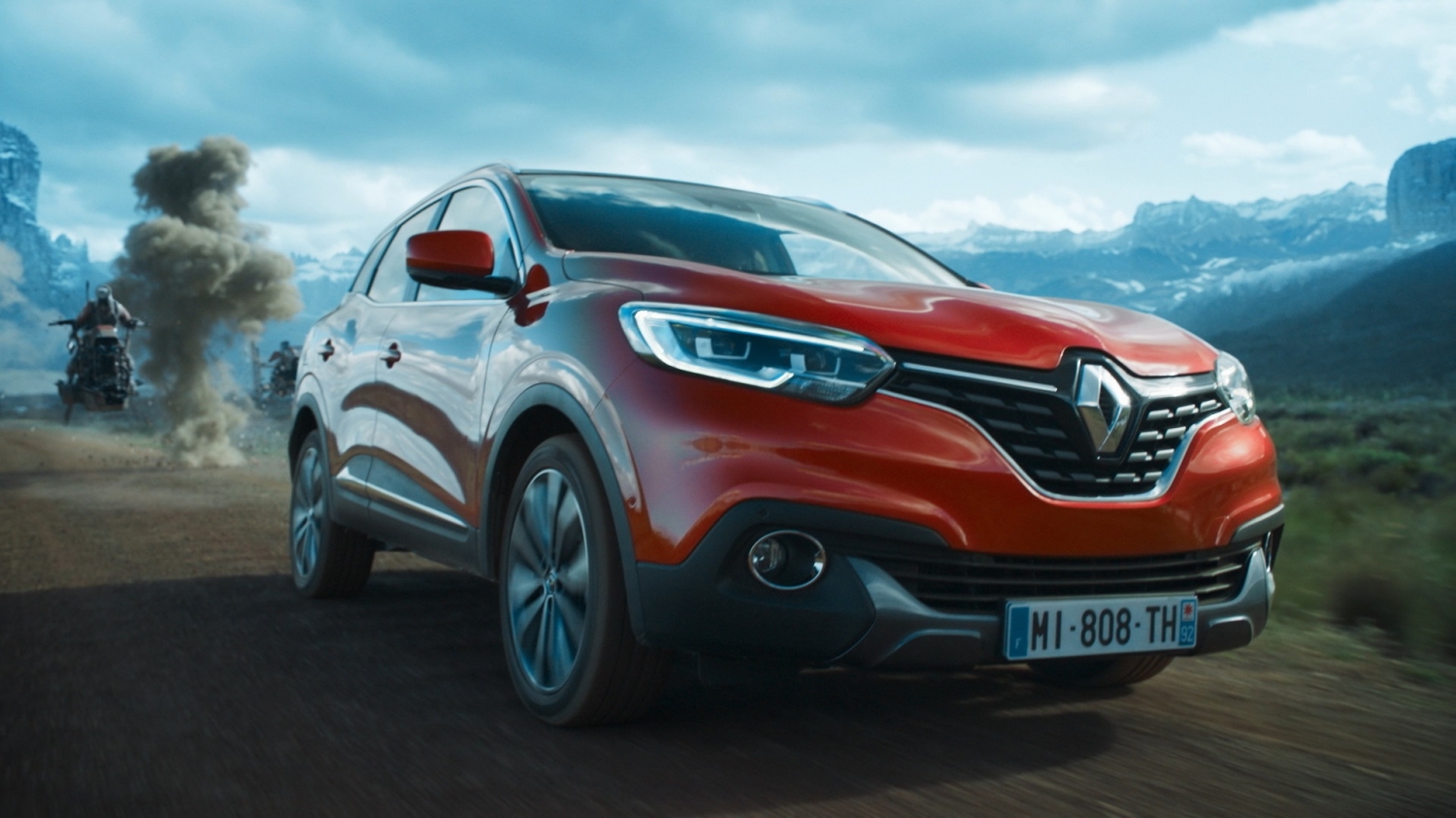 Renault joins forces with "Solo: A Star Wars Story" with special events and competitions taking place until July
Test drive any Renault to be in with a chance to win a family holiday to Italy and visit "Solo: A Star Wars Story" filming locations
Renault Kadjar crossover features in a very special TV advert starring Chewbacca
Renault to partner with Radio X and Heart for themed competitions
Partnership with Shazam to bring the advertising to life
"Solo: A Star Wars Story" is released in UK cinemas Thursday 24th May
Renault Kadjar is available from £17,928 on-the-road in Jersey.
Renault is teaming up with "Solo: A Star Wars Story" to provide a thrilling experience for its customers ahead of the launch of the film, released in UK cinemas from 24th May 2018.
Until July 2018, Renault is inviting everyone to 'take the alternative road' with the Renault Kadjar crossover through a pan-European campaign – designed and produced in collaboration with Lucasfilm, Disney and Publicis Conseil. For the French car manufacturer, this is an unprecedented collaboration, which will be live in 25 countries throughout Europe.
Money-can't-buy prizes up for grabs across the UK
From today, visitors to any Renault dealer can enter into a prize draw to win the trip of a lifetime to Italy when they test drive any Renault car. The family holiday experience includes stays in the Dolomites and on Lake Como to visit one of the filming locations from "Solo: A Star Wars Story".
Commuters at Birmingham Bullring and Manchester Piccadilly will have the chance to experience Kadjar set in a galaxy far away, whilst looking around the stylish family crossover. Renault is offering everyone the opportunity to be a part of Han and Lando's adventure in "Solo: A Star Wars Story" and visitors are invited to watch an exclusive scene from the upcoming film, six weeks before its release. To add even more excitement, the preview is brought to life though VR technology. The experience will be taking place at:
Birmingham Bullring: 3rd-6th May
Manchester Piccadilly: 17th-20th May
Listeners of Radio X and Heart will also become familiar with Kadjar and "Solo: A Star Wars Story" as competitions for money-can't-buy prizes will be plentiful throughout May. Through competitions, Radio X will offer listeners a money-can't-buy prize to a private screening of the film before it opens in cinemas nationwide with travel, dinner and an overnight stay included as well as a £100 Disney Store voucher and a LEGO Millennium Falcon set. Heart are also offering listeners the chance to win £1,000 cash prize.
TV advert with two very special stars
When Renault joins forces with "Solo: A Star Wars Story", it's natural to expect adventure. In the all-new movie featuring the most beloved scoundrel in the galaxy, filmgoers will find out how taking the alternative road led Han Solo to meet his mighty future co-pilot, Chewbacca. Now, thanks to the features of Renault Kadjar – 4×4 transmission, emergency braking system and blind-spot alerts – Renault is offering customers the chance to 'take an alternative road' too, through an all-new advert featuring Chewbacca and Kadjar. The advert will air until xx during prime time TV shows such as Gogglebox.
Experience "Solo: A Star Wars Story" at selected Renault dealerships
Visitors to selected Renault dealerships will also be able to experience the VR technology that showcases Han and Lando's adventure in "Solo: A Star Wars Story" in a showroom that will bring the characters to life.
Bringing Kadjar and "Solo: A Star Wars Story" to life through Shazam
Renault has also partnered with Shazam to provide those on their commute a chance to taste the Renault and "Solo: A Star Wars Story" experience at their bus stop. Taking part is simple: participants just have to use their Shazam app to scan the Renault and "Solo: A Star Wars Story" out of home advertising, then the adventure begins.
This launches a video where the user can explore the Renault Kadjar, observing each aspect of the vehicle as if it was just in front of their eyes via augmented reality. Users can then click through to learn more about the features of the vehicle.
Alongside the TV spot, press and out of home materials communicating to the general public, the majority of the assets developed will be published on digital platforms. The content has been developed with customer profiles at its heart, providing a tailored experience for each different audience.
ENDS
About Groupe Renault
Groupe Renault has been making cars since 1898. Today it is an international multi-brand group, selling 3.76 million vehicles in 127 countries in 2017, with 36 manufacturing sites, 12,700 points of sales and employing more than 120,000 people. To meet the major technological challenges of the future and continue its strategy of profitable growth, the Group is harnessing its international growth and the complementary fit of its five brands, Renault, Dacia, Renault Samsung Motors, Alpine and LADA, together with electric vehicles and the unique Alliance with Nissan and Mitsubishi. With a new team in Formula 1, Renault sees motorsport as a vector of innovation and brand awareness.
In the UK, Groupe Renault UK has nearly 160 dealers selling the range of Renault cars, LCVs and Dacia. Groupe Renault UK sales totalled 113,988 vehicles in 2017.
About "Solo: A Star Wars Story"
Board the Millennium Falcon and journey to a galaxy far, far away in "Solo: A Star Wars Story," an all-new adventure with the most beloved scoundrel in the galaxy. Through a series of daring escapades deep within a dark and dangerous criminal underworld, Han Solo befriends his mighty future copilot Chewbacca and meets the notorious gambler Lando Calrissian, in a journey that will set the course of one of the Star Wars saga's most unlikely heroes.
The film stars Alden Ehrenreich, Woody Harrelson, Emilia Clarke, Donald Glover, Thandie Newton, Phoebe Waller-Bridge, Joonas Suotamo, and Paul Bettany.
Ron Howard directs "Solo: A Star Wars Story," and Kathleen Kennedy, Allison Shearmur and Simon Emanuel are the producers. Lawrence Kasdan, Jason McGatlin, Phil Lord and Christopher Miller serve as executive producers. Jonathan Kasdan & Lawrence Kasdan wrote the screenplay. "Solo: A Star Wars Story" opens in U.K. theatres on 24th May 2018.