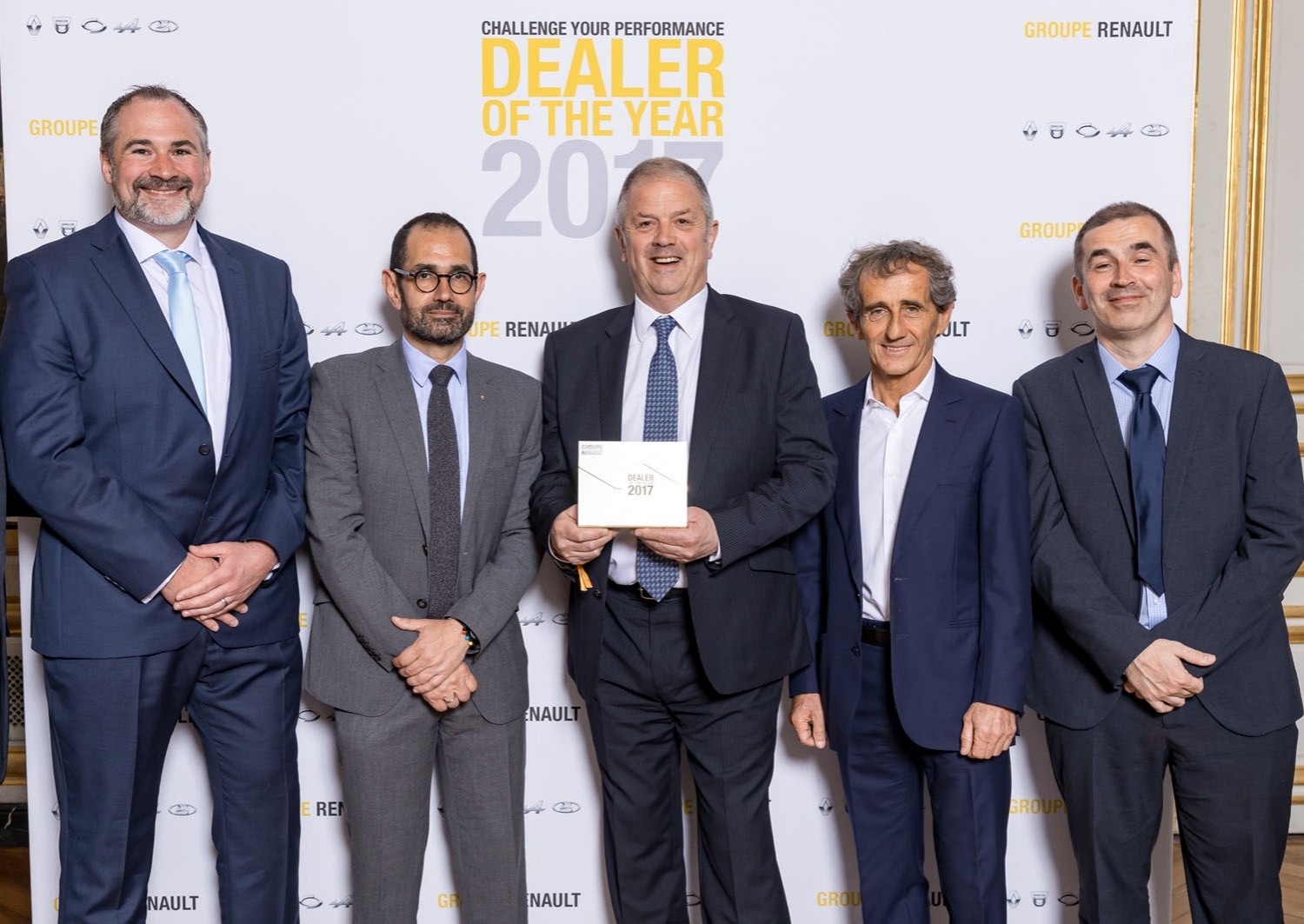 RMB Northallerton – awarded Renault UK Dealer of the Year 2017
Bagot Road Jersey – awarded Dacia UK Dealer of the Year 2017
DSG Morecombe – awarded Renault UK Z.E. Dealer of the Year 2017
Groupe Renault's top UK dealers have been recognised for their outstanding performance at a global event, near Paris last week. Hosted at the Palace of Versailles, the awards were hand out by Thierry Koskas, Executive Vice-President, Sales & Marketing, Groupe Renault and Alain Prost, four-time Formula One™ World Champion.
In the regal setting of the Palace of Versailles, which was constructed in the 17th century at the request of Louis XIII, three UK dealers were recognised amongst 21 other markets as being the very best in their territory. Selected from the entire Renault & Dacia network of dealers in the UK the winners were presented a trophy to take back to their dealership by the illustrious presenters. The following day they were also welcomed at the Automobile Club at the Place de la Concorde, founded in 1895, for cocktails and photos.
The awards are recognition for the fantastic performance across a range of metrics used by Groupe Renault UK to assess the performance of its dealer partners. These include sales performance, customer satisfaction – for both sales and service, as well as dealership appearance and other key brand pillars.
Vincent Tourette, Managing Director, Groupe Renault UK said: "All three dealers have demonstrated a tremendous commitment to customer service, exceeding the high dealer standards and expert product knowledge we expect from all our network. The result of this fantastic performance is recognition not only from Groupe Renault UK but also from the global headquarters. We would like to thank them for their continued support in providing Renault and Dacia customers with the very best customer service possible."
Renault is Europe's leading electric vehicle manufacturer selling a range of passenger car and LCV (Z.E. – Zero Emission) electric vehicles.  Dacia has been a phenomenal success since launching in the UK in 2013 with more than 120,000 vehicles sold to date and more than five million sold since Groupe Renault took over the brand in 2004.